A Facebook (FB) Reel making rounds online allegedly shows security footage of a man whose pants caught fire, after he farted causing his phone to blow up. The video was edited and given false context.
Published by an FB page on June 10, the correct FB post featured a 12-second clip with this warning:
"hello! Umapoy! (Oh, no! It caught on fire!) Be careful when you fart with your phone in your back pocket."
The circulating video showed people in a queue when suddenly, after a loud farting sound, a man's pants went ablaze. The people around him were started as the man shook off his trousers.
This incident did not really happen. The explosion in the video was actually caused by a power bank that overheated. Moreover, there was no fart sound in the original recording.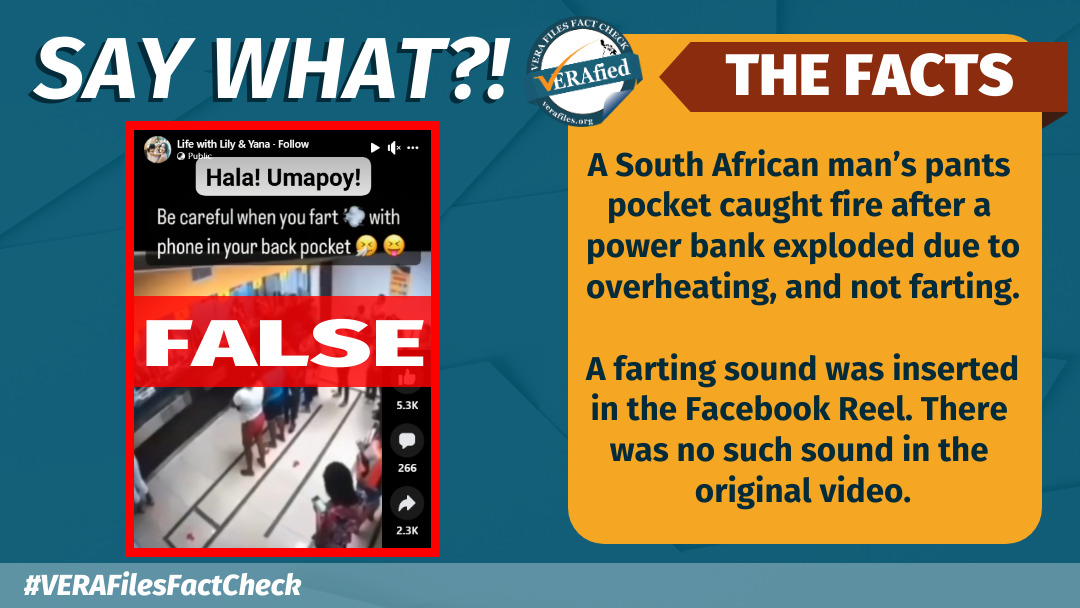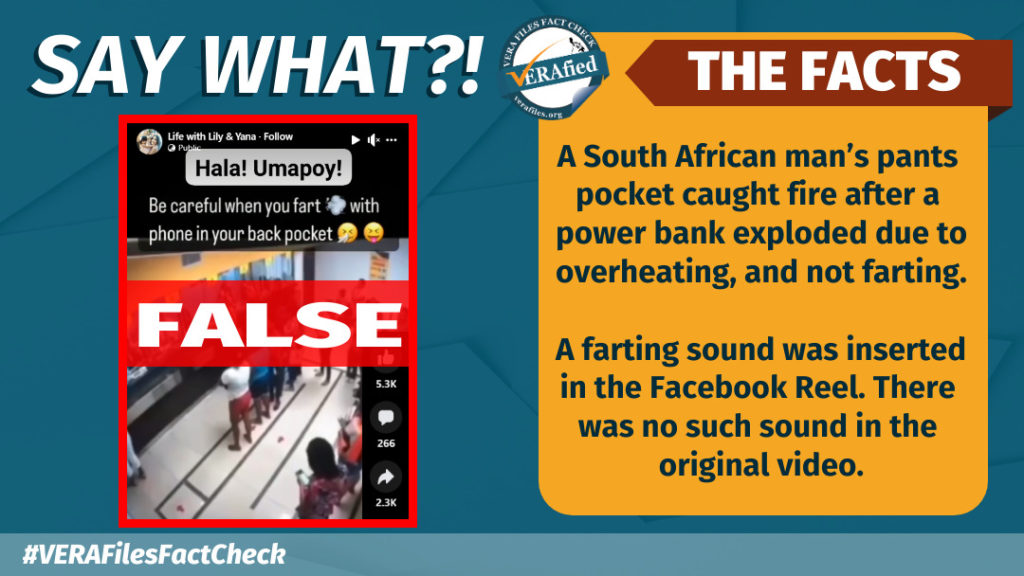 The short video was originally published by Twitter user LeThabo_Is_key in March 2020. There was no farting sound when it was played back.
In a March 2020 interview with South African media organization News24, the 29-year-old local man in the footage said he was waiting for his girlfriend to buy an airplane ticket when the power bank in his pocket overheated and burst into flames.
Other international fact-checking organizations have debunked similar claims that blamed flatulence as the cause of the explosion.
The reel was published by FB page Life with Lily & Yana (created on Feb. 8) and has garnered over 5,300 reactions, 266 comments, 2,300 shares and 1.2 million views.
Have you seen any dubious claims, photos, memes, or online posts that you want us to verify? Fill out this reader request form or send it to VERA, the truth bot on Viber.
(Editor's Note: VERA Files has partnered with Facebook to fight the spread of disinformation. Find out more about this partnerships and our methodology.)